Guernsey Electricity cable repair 'suffers setback'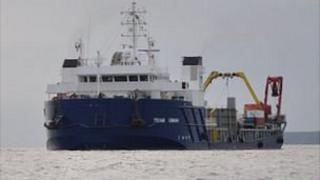 There has been a "setback" to repairs to the undersea electricity cable link between Guernsey and Jersey.
The cable was repaired and relaid on the seabed by the specialist cable ship Team Oman last week.
However, tests of the link found a fault at the Barker's Quarry substation, where the cable connects to the electricity grid.
Specialists are examining the failure of an internal component and it is not clear how long repairs will take.
Bob Beebe, Guernsey Electricity's operations director, said: "Obviously we are very disappointed that we haven't been able to reconnect the link.
"We are moving forward with the work and the next step will be to consult cable specialists ABB about the cause of the failure and how to remedy it.
"This will cause further delay in bringing the link back on-line and means that we will continue to generate the island's electricity supply locally."
Guernsey Electricity, the sole provider of electrical energy in the island, is wholly owned by the States of Guernsey.
Treasury and Resources Minister Gavin St Pier said the island would continue to need to generate its own electricity even after the cable was repaired.
He said: "Our imports from France through Jersey will be restricted because of the failure of one of the cables between France and Jersey.
"Our maximum importation will be about 16 megawatts and our peak demand can be up to sort of 80 megawatts.
"There will be a shortfall that will have to be met by on island generation, which is more expensive."
Deputy St Pier said in the short-term his priority was to work with Guernsey Electricity and the regulator to ensure any tariff changes for bill payers were manageable.
He said in the medium to long term he was focussing on the island's energy needs and how best to meet them.