Guernsey honours Sir Isaac Brock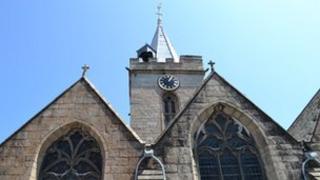 Guernsey is to remember the death of Major General Sir Isaac Brock with a parade and 15-gun salute.
The military hero, who is credited with saving British North America (now Canada) from invasion by the US, was born in St Peter Port in 1769.
The commemorations have been planned for the 200th anniversary of his death at the Battle of Queenston Heights on 13 October 1812.
The parade will stop on High Street outside the house where he was born.
The property is now occupied by Boots, which will temporarily remove its window advertising in favour of a display about Brock.
The parade will be joined by the Canadian defence attache.
It will march to the Town Church, where four wreaths will be laid during a service from 10:00-11:00 BST.
The 15-gun salute will then be fired at noon from Castle Cornet, which will stay open to visitors during the afternoon.
The commemorations will culminate in a full regimental dinner at the Old Government House Hotel, where Brock would once have received his orders from the island's Lieutenant Governor.
Evan Ozanne, a member of the Brock Bicentenary Committee, said he was keen to involve any Canadian nationals resident on the island.