Guernsey advised to spend £50m on sea defences by 2032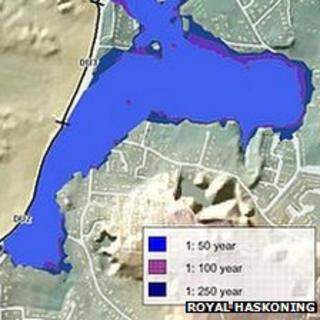 Guernsey has been advised to spend £50m on its coastal defences in the next 20 years, to avoid significant flooding.
A study by consultants Royal Haskoning, commissioned by the Environment Department, recommended a series of high priority projects.
Urgent improvements, estimated to cost £3.3m, to defences at L'Eree Bay are included, involving a rock revetment extending 30m out from the sea wall.
The report also advised spending £25.9m on near-shore breakwaters, at Cobo.
'Substantial risk'
It said 41 properties at the west coast bay were already at risk from a "one-in-one-year" flood event, while 124 could be inundated by a one-in-10-year event.
The report recommended a system of flood warnings be put in place at Cobo and advised further investigation of the ability of individual properties to withstand water flows.
A programme of beach replenishment at Cobo was recommended in order to "reduce waves impacting on the existing defence line".
In addition, the study warned work was needed "with a high degree of urgency to address the very substantial risk of flooding from overtopping of the Bridge at the western end of St Sampson Harbour" at a cost of £2.1m.
In all, the total outlay for projects defined as high priority was £49,959,000.
Of that amount, £7,648,000 was required for projects over the next five years.
'Sudden failure'
Another area of particular concern was on the north-west coast at Rousse Headland and Baie de Port Grat.
The report found there was a "high risk of sudden failure and flooding from both north and south" and a "potential risk to life".
A 20 year programme of repairs and improvements costing £3.6m has been put forward to address this.
The study analysed wave and swell conditions from 50 different directions, taking into account the topography of the sea bed and the formation of rocks and reefs around the coast.
In its conclusions, it separated the risks Guernsey currently faces from those it will face if, as predicted, sea levels rise.
The highest spring tides around Guernsey were estimated to be 90cm (35in) higher in 2111, than in 2012.
In addition, predictions of an increase in the frequency and intensity of storms was taken into account.
The island already has an unusually wide tidal range, at 10m (33ft).
'Venice archipelago'
The Braye du Valle, an inland waterway which was drained and reclaimed at the beginning of the 19th Century, was shown by the analysis to be vulnerable to waves from east or west overtopping sea walls.
With current sea defences in place, the report said a one in 100 year event would be enough to inundate the area and see the Clos du Valle, to the north, temporarily separated from mainland Guernsey.
Deputy Roger Domaille, the minister of the Environment Department, which commissioned the report, said: "Sea level rise is here. It will happen. It's a question of when."
"If we did nothing, we could end up with a Venice archipelago, I suppose," he said.
Deputy Domaille said the report would give the department a plan for the next 20 years, "but we will have in place plans for the next 100".
"We believe we've got it pretty well covered," he said.
Displays on the flood risk areas will be available for public viewing at St Sampson's High School on 29 August and 3 September.
The department is inviting the views of residents and businesses until 31 October.
Deputy Domaille said he hoped to present final recommendations to the States in June of next year.