Guernsey prisoners sort recycling from metal waste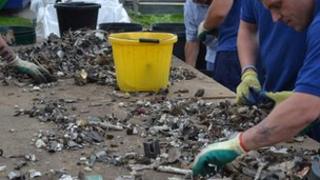 Guernsey prisoners are sorting waste in a partnership between the Les Nicolles Prison and recycling organisations.
The scheme has been designed to provide work and education and help the States achieve its 70% waste recycling target.
Under the scheme, prisoners sort metal and electronic waste and electrical equipment, including computers with their hard drives removed, into their components.
These are then sent off island for recycling.
The partnership between the prison, Guernsey Recycling and Mayside Recycling means prisoners are able to gain NVQ qualifications in recycling.
Alan Crowe, director of Guernsey Recycling, said there were only two ways to carry out this kind of separation, either manually or via an expensive process known as heavy media.
He said: "The smallest heavy media operation plant you can buy is £1m, which would be totally impracticable to bring into Guernsey... manual separation is the only other way to do it."