Guernsey's St John Ambulance funding 'unsustainable'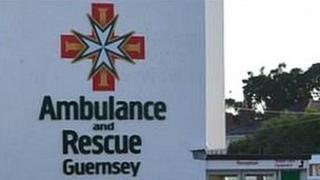 The man in charge of Guernsey's St John Ambulance and Rescue has said its financial reserves have been exhausted due to an insufficient States grant.
In his annual report for 2011, chief ambulance officer John Beausire said the £1.9m annual payment fell short of being a "correct level of funding".
The cost of running the service in 2011 was £3.8m compared to a total income of £3.1m including charges and donations.
As a result, the service's reserves have fallen to less than £400,000.
This compares to more than £2m in 2004, at which time annual income and expenditure were roughly equivalent.
Mr Beausire expressed frustration with the political leadership of the Health and Social Services Department (HSSD).
'Positive relationship'
He said the service had been using up its reserves since 2004 and had notified HSSD in 2008 "that the level of grant funding was insufficient to enable it to comply with the Service Level Agreement".
He said he had built "a positive working relationship" with members of HSSD's senior civil servants, which culminated in their support for the future funding of paramedics by the States.
However, Mr Beausire said despite that support "it was not submitted to the process by the HSSD Board, consequently delaying the resolution of the funding of this key aspect of health provision for Guernsey".
The service increased its charges for ambulance call-outs twice during 2011 in an effort to avert losses.
This took the total payment from £172 to £225, which Mr Beausire said had led to an increase in bad debts.
A total of £76,600 was written-off during the 12 month period covered by the report.
'Left behind'
Deputy Hunter Adam, the HSSD minister, admitted the financial plight of the ambulance service may have been overlooked as a result of a change of chief officer at the department.
"It takes some time for a new chief officer to catch up on every aspect of the organisation," he said.
"Remember, the core aspect for HSSD is what we provide ourselves and St John may have been left behind to a certain extent."
Deputy Adam said an independent consultant would be hired to help HSSD and St John Ambulance and Rescue identify "what services we must have, what services it would be good to have and what services it would be nice to have".
However, he said the ambulance service should not become entirely States run.
"The private/public relationship works extremely well," he said.