Guernsey bands 'honoured' to play Vale Earth Fair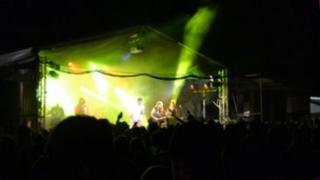 For more than 30 years the Vale Earth Fair Collective has been bringing a celebration of music to the north of the Guernsey.
Last weekend was just the same with 12 hours of music across six stages.
Locally based reggae-punks RentOClean made their debut by opening the main stage at the Vale Castle.
Tom Erskine, bass player, said: "It was great, our aim for the last year has been to get it together [to play the Castle Stage]."
Brett Smead, saxophonist and vocalist, added: "It's an honour [to play the Earth Fair] because we all grew up in Guernsey and main stage Earth Fair is no messing around, it's living the dream - going from being a nipper looking up at the stage thinking 'imagine that' - thanks to the Vale Earth Fair for the opportunity."
It was also the first time at the Vale Earth Fair for SugarSlam, who have recently resurfaced (having originally been together in the early 1990s) with a new line up and an album's worth of brand new songs.
Pete 'Plumb' Bretel, guitarist and singer, said they'd had a "great gig" and that the set up had been very professional.
He added: "This was our first time playing the Earth Fair… we come here every year and to be asked to play is great."
The band's new drummer Ben, who only attended his first Earth Fair last year having just moved to Guernsey, said: "It's been amazing."
Pete added: "It's a completely different crowd to play to… it means more people will get to hear out stuff."
With more than 2,000 people attending the event this year it seems just as popular as ever and, as Guernsey's longest running music festival, still seems to have something to offer to both bands and those attending the show.