St Sampson's Harbour due to close for generator delivery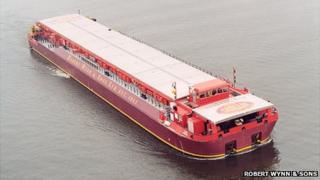 Guernsey's St Sampson's Harbour is due to close on Sunday evening for the delayed delivery of a 360-tonne electricity generator.
The barge Terra Marique had been due to arrive on Tuesday but was diverted to Southampton due to bad weather.
Captain Peter Gill, harbour master, said there would be no access to and from the marina from 18:15-23:00 BST.
He said alternative overnight mooring would be available in the Victoria Marina, in St Peter Port.
The Terra Marique, which weighs 2,211 tonnes, 80m (262ft) long and 16.5m (54ft) wide, is expected to arrive in the harbour on Saturday.
On Sunday evening the barge will move into position alongside Abraham's Bosom, on the north side of the harbour, involving ropes being stretched across the whole width of the harbour.
Captain Gill said once the offloading had been completed and the barge moored elsewhere the marina would reopen.
He said: "Whilst any delay or inconvenience is regretted, the safety of this operation is paramount."
The oil-fired generator, which cost £14m, will be the single largest piece of machinery ever brought ashore in the Bailiwick.
The 360-tonne unit is more than 18m (60ft) long, 5m (16ft) wide and almost 6m (20ft) high and is scheduled to begin generating power in March.