Guernsey should develop alternative energy says chamber boss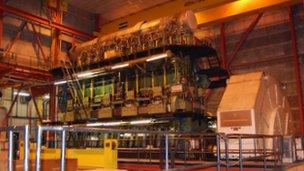 Guernsey should rely less on the cable link with France and develop alternative energy supplies, according to the Chamber of Commerce president.
Rupert Dorey said the recent 9% increase in electricity charges showed the island was vulnerable to disruptions in supply from France.
The link between Guernsey and Jersey failed in April causing power to be generated on island, which costs more.
Mr Dorey said renewable energy sources needed to be developed.
Guernsey Electricity said it would need to increase the price of power to the island by 9% from 1 October.
The company said the loss of the link between Guernsey and Jersey as well as a number of other issues meant it had to generate more power on island.
Guernsey Electricity managing director Alan Bates said the company had absorbed some of the costs to give customers breathing space in their finances, but it would cost customers between £3 and £10 per month.
Guernsey competition regulator Andrew Riseley said the price rise should be reversed as soon as a second cable link to France is established.
Mr Dorey said as well as renewable energy sources the construction of a second cable link to France, to reduce the risk of similar problems in the future, was essential.
Scrutiny Committee Chairman Paul Arditti said the issue of supply in the medium to short term was of the utmost importance and fundamental to the island's economy.
Mr Arditti said a States debate on the security of Guernsey's electricity supply was needed as a matter of urgency.
Related Internet Links
The BBC is not responsible for the content of external sites.