Guernsey must not forget occupation: German ambassador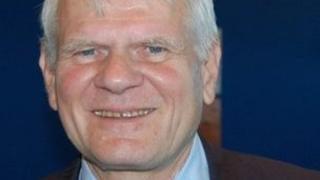 Guernsey must not forget the Nazi occupation of the island, according to the German Ambassador to the UK.
Georg Boomgaarden said people needed to remember the unique historical impact of World War II and the Holocaust.
He was meeting local students who will be visiting Biberach in October.
The German town was home to a internment camp where people from the Bailiwick were sent during the occupation.
Mr Boomgaarden said the events of the war and the Holocaust were the darkest hour in his country's history and one that must never be forgotten.
He said: "The Nazi past must not be forgotten, it cannot be forgotten.
"Wars and occupations happened a lot in history but the Nazi past is linked to the Holocaust, which even with all the crimes we see in the world is still unreached."