Guernsey Cow Parade sale raises more than £45,000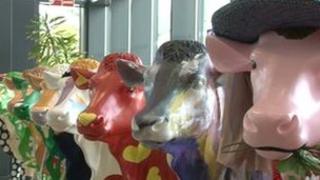 The sale of 52 decorated fibreglass cows has raised more than £45,000 for the Guernsey Adult Literacy Project.
The cows, which had been individually decorated, were auctioned on Sunday having been on display throughout the island during the summer.
One of the cows, named Jubilee, was decorated in the style of the Little Chapel and sold for £5,200.
Organiser Trevor Wakefield said the funds raised would pay for the staff who provided the literacy lessons.
He said: "In some cases we're teaching people to read from scratch, in other cases it's just to improve and it involves quite intensive one-on-one tuition."
Mr Wakefield said the cow parade and a similar donkey parade held in 2011 had captured the public's imagination.
He said: "It's created a nice kind of feel around the island, it was set out as a community art event and that's what it's been."