Guernsey Fusion Nightclub and Luna Bar damaged by flood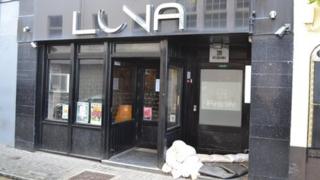 There has been major flooding damage to a St Peter Port nightclub in Guernsey.
The owner of Fusion Nightclub and Luna Bar Adam Burroughs said it was under about 1.5ft (45cm) of water at the weekend after adverse weather.
He said the electronic colour-changing dance floor had been "completely written off" and the bar and toilets were "severely water damaged".
He said once he had a schedule for repair work he would know when it could re-open.
Mr Burroughs said: "Over the last 24 hours employees have helped to clean up a lot of the damage and to take up the dance floor area which will need replacing.
"It was shocking to see the damage to Luna Bar especially."
He said it would cost tens of thousands of pounds to fix.