Repair date set for Guernsey sea wall at Perelle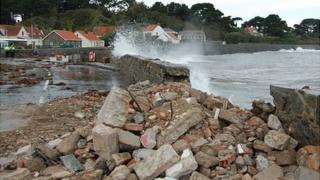 Temporary repairs to the broken seawall and coast road on Guernsey's west coast are due to start on 5 November.
A 10m (33ft) section of coast road and part of the sea wall was destroyed by waves on 17 October.
The Environment Department said the repair work would allow the road to reopen within a week.
In the meantime it has asked drivers to heed the closure signs as driving on the road could cause damage to essential services in the area.
The department said this includes the mains sewer, electricity cables, water and phone services.
The initial works are due to involve reinforcement materials being placed in the section of damaged road closest to the sea wall.
Further work to permanently repair the coastal side of the road and the damaged sea wall is due to be undertaken in stages.