Guernsey tower could house health staff, says minister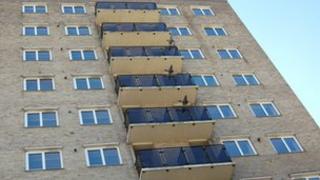 Health workers could be housed in a St Peter Port tower block, Guernsey's housing minister has said.
Deputy Dave Jones told States members the Cour du Parc tower would be transferred to the Guernsey Housing Association (GHA).
He said the GHA would refurbish the building and make flats available for social housing and for health workers.
Flats in the Cour du Parc tower block have been empty since 2011, after they were deemed unsafe and uninhabitable.
Deputy Jones said work could start within a year, pending planning permission, with a construction period of 12 to 15 months.
He said the GHA would carry out a tender process for the refurbishment once planning was complete.
Deputy Jones said refurbishing the block would be £3m cheaper than buying land and developing replacement social housing elsewhere.
He added that the final mix of tenants would be decided at a later date.