Alderney Harbour shown on new set of stamps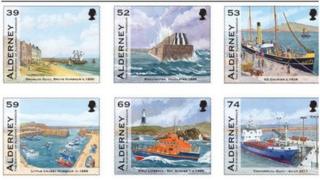 The history of Alderney Harbour is depicted in Guernsey Post's latest set of stamps.
The six stamps were designed by Richard Thompson.
The 2,700 ft (822m) long Breakwater, built between 1847 and 1864 to help defend against the threatened invasion of Napoleon, is shown in the 52p stamp.
Bridget Yabsley, from Guernsey Post, said building the Breakwater was a huge undertaking, as the sea conditions in Alderney are frequently severe.
She said: "Cottages were built to house the stonemasons, engineers, craftsmen and labourers that were shipped over, as well as forts for garrisoned troops."
The Douglas Quay at Braye Harbour, shown before the Breakwater was constructed, is on the 39p stamp.
The Little Crabby Harbour, also known as the Inner Harbour, is on the 59p stamp. It was built to accommodate tipping barges and steam boats.
The multi-million pound refurbishment of the Commercial Quay, completed in 2011, is shown on the 74p stamp.
There is an image of a courier vessel from 1926 on the 53p stamp, and an RNLI lifeboat, from the present day, is shown off the coast of Corbelets Bay on the 69p stamp.