Aurigny flights in doubt after technical problems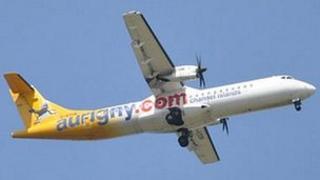 Aurigny's Gatwick flights may be affected later after a series of technical problems over the weekend, the airline said.
A spokesman said an ATR aircraft was out of operation on Sunday, causing the cancellation of a flight from Guernsey to Gatwick and one to Manchester.
He said a further flight, carrying spare parts for the other ATR, had to turn around after technical problems.
It had to declare an emergency landing at Gatwick as a precaution.
The spokesman said it landed safely and all passengers on board were found accommodation and alternative flights.
The 08:30 GMT flight from Guernsey to Gatwick was cancelled earlier.
Malcolm Hart, Aurigny's managing director, said one plane had been fixed and the company was leasing another aircraft until all three ATRs were back in service.
He said: "We are hoping to get the people we have chartered in to fly more, or hopefully the aeroplane in Gatwick will become serviceable and return to Guernsey."