Aurigny flights disrupted after technical problems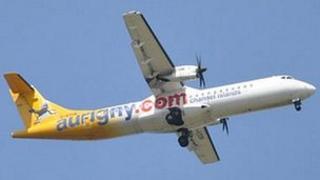 Ongoing technical problems with Aurigny's ATR aircraft meant a third day of flight disruption.
A spokesman said the 07:00 GMT flight from Guernsey to Manchester was delayed due to technical problems.
The airline suffered problems with two of its three ATR craft on Sunday, and on Monday Aurigny hired an aircraft to compensate.
Malcolm Hart, the managing director of Aurigny, apologised to passengers for the disruption.
He said: "We apologise... and assure them [the passengers] that we will be working hard to ensure that we are back on schedule at the earliest opportunity."
One aircraft was out of operation on Sunday, and a further flight travelling from Gatwick to Guernsey had to turn around after technical problems.
A spokesman for Aurigny said it had to declare an emergency landing at Gatwick as a precaution, but landed safely.
On Sunday two flights were cancelled, and one on Monday.