Guernsey witnesses and crime victims given more help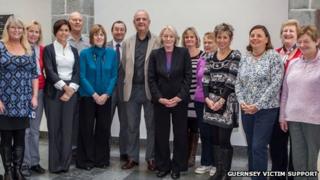 Six new volunteers have been trained for the Guernsey Victim Support and Witness Service.
A spokesman for the service said there had been an increase in the need to provide support to victims and witnesses of crime.
The Guernsey Victim Support and Witness Service now has 15 volunteers who offer guidance and support to witnesses and victims having to go to court.
Manager Marilyn King said last year it had had more than 400 referrals.
She said the service supported people who were victims of domestic abuse, assault, burglary and criminal damage, whether or not a crime had been reported.
'Mixture of experiences'
She said: "We provide support to prosecution and defence witnesses, their family and friends before, during and after coming to court to give evidence.
"We offer pre-trial visits to the courtroom, to explain the court procedure and our volunteers provide support on the day of the court attendance."
The service is partly funded by the public and part privately funded.
Brian Richings, chairman, said: "The service takes on volunteers from a wide range of backgrounds with a mixture of experiences.
"We are extremely grateful for the commitment and dedication that our volunteers show."