Sark has too many vineyards, says committee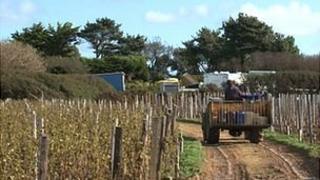 The amount of land planted with vines is taking up an excessive amount of agricultural land, Sark's Agriculture Committee has said.
It follows a protest including 100 islanders against the planting of further vines in fields in the island.
Sark Estate Management, which has planted the vines, claims it is diversifying the economy and creating employment opportunities.
The committee has raised concerns over a reliance on one crop.
At its meeting on Wednesday the committee also condemned the vandalism of vineyards, believed to have taken place overnight on Friday, involving thousands pounds of damage.
Conseiller Paul Williams, committee chairman, said: "This criminal activity has no place at all in Sark or anywhere else.
"It is the right of Sark residents to make their views known in a peaceful and lawful manner but it is no-one's right to vandalise anyone else's property."
He said discussions with landowners and their tenants would be held to work on establishing a land use policy for the island.