Guernsey air cadets named after disbanded unit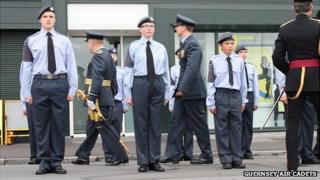 A new link has been established between Guernsey and the disbanded Royal Air Force's 201 (Guernsey's Own) Squadron.
The island's air cadet unit, which formed this year, has been officially named the 201 Overseas (Guernsey) Squadron Air Training Corps.
Most training units are given a two digit identifier, Jersey's being 07, but the move was agreed to honour the island's relationship with the RAF.
David Poole said it was "an exceptional and rewarding move".
201 Squadron, based at RAF Kinloss, at Moray Firth, in the north of Scotland, can trace its origins back to the first British military flying unit.
Since 1970 the squadron had flown the Nimrod surveillance plane, which were due to be replaced by the MRA4 Nimrod in 2012.
However, after the MRA4 project was cancelled in 2010 as part of cuts to the UK's defence budget the squadron was disbanded in May 2011.
The affiliation of the island and squadron dates back to 5 May 1939, when it was announced by the then Air Minister Sir Kingsley Wood as he opened Guernsey Airport.
It was part of the Municipal Liaison Scheme to link areas, towns or islands in the British Isles to Royal Air Force squadrons.
It led to a number of visits by the squadron to the island and then being given the Privilege of Guernsey in 1994.
Flying Officer David Poole said: "[It] is very rewarding and reflects the highly regarded commitment of the people of Guernsey to the RAF over such an extensive period.
"The cadets and adult volunteer staff will relish the chance to continue to uphold the values and traditions of this relationship.
"[We] will take great pride in maintaining the high professional standards that 201 Squadron displayed throughout their existence as an RAF Squadron."
Air Commodore Dawn McCafferty, the Commandant Air Cadets, said it showed "how highly the commitment and association between the people of Guernsey and 201 (Guernsey's Own) Squadron RAF was valued within the wider RAF family".
She said: "To be able to continue this tradition by allocating the RAF Squadron number to a brand new ATC Squadron is a wonderful opportunity to strengthen the bonds between the island and the RAF's uniformed youth organisation."
The Guernsey air cadets squadron is a registered charity in the island and is one of only five overseas units, with the others in Cyprus, Germany, Gibraltar and Jersey.