Guernsey's Perelle coast road collapses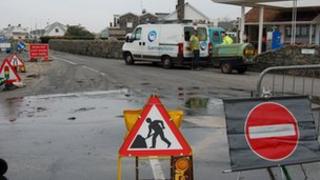 A burst water main has caused a further collapse of Guernsey's Perelle coast road, forcing its closure in both directions.
Guernsey Water said nine homes had been left without mains water after the incident, which happened at 13:30 GMT.
The company's engineers have been working at the site but it is not anticipated the road will reopen until at least Friday.
Guernsey Police have asked motorists to avoid the area until further notice.
Andrew Redhead, the director of water services, said engineers would carry out repair works throughout the evening, until such time as water supplies could be restored.
"We're making available alternative supplies to about nine properties that would otherwise be affected," he said. "We'll make sure that they've got water."
A separate section of the same coast road collapsed on 17 October after strong winds combined with a high tide.