Guernsey St John Ambulance goes independent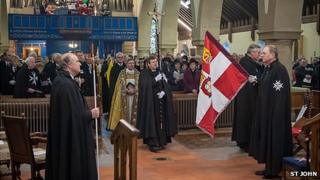 Guernsey's ambulance and rescue service and St John voluntary service have become independent from the UK.
It means their services, including road and marine ambulances, cliff rescue, inshore rescue boat and first aid training, will be controlled locally.
This will include the spending of the budget, which is made up by a States grant, subscriptions and donations.
A special ceremony to recognise the change was held at St Stephen's Church, in St Peter Port, on Sunday.
Peter Voute CBE, who was sworn as the first Knight Commander for the Bailiwick, said: "[It] is a historic moment in the proud history of St John in the Bailiwick of Guernsey."
'Outstanding service'
The service saw the inauguration of the Commandery of the Bailiwick of Guernsey of the Most Venerable Order of the Hospital of St John of Jerusalem.
The Duke of Gloucester, second in command of the Order of St John in his role as The Grand Prior, represented the Queen, who is the Sovereign Head of the Order of St John, at the ceremony.
Mr Voute said: "The new commandery becomes self-governing and places local assets under local control but remains dependent on the Priory of England and the Islands in a manner similar to the commanderies of Jersey and the Isle of Man.
"St John has provided an outstanding service to this Bailiwick for the past 76 years, even during the German Occupation, and will continue to do so for the foreseeable future."
The island's first ambulance service was set up in 1936 and three years later the States of Guernsey agreed that St John should provide the island's ambulance service and gave an annual grant of £200.
Sword dedicated
Alderney's volunteer ambulance service was formed in 1952.
Mr Voute said: "The range of services to the community is unique within the worldwide Order of St John.
"[It provides] an Ambulance Service in both Alderney and Guernsey, a marine ambulance that serves the smaller islands of the Bailiwick as well as visiting cruise liners and other vessels at sea."
He outlined how it also manages cliff rescues, inshore rescues, a recompression chamber, a youth service, voluntary ambulance service for island wide events, a library service for residential homes, health care equipment shop and first aid training for businesses and schools.
Along with the appointment of the commandery's officers a banner, sword and cross were dedicated.
The banner has been created by the Royal College of Arms after special permission was given by the Court of Heralds to create a unique Guernsey insignia, involving symbols of the Priory of England and the Islands and the Norman cross seen on the Guernsey flag.