Guernsey health cuts 'short-sighted', says nursing college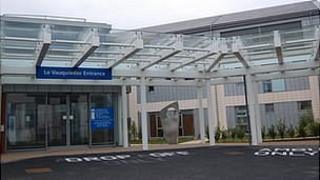 Closing hospital wards in Guernsey is "shocking and short-sighted", according to the Royal College of Nursing (RCN).
Last week the health minister announced service cuts, including postponing operations, during December to try to manage an expected £2.5m overspend.
Patricia Marquis, director of the RCN South East region, described it as "a direct attack on front-line clinical services".
The Health Department has yet to respond to the criticism.
Ms Marquis said: "This decision has come without consultation, without costings and without apparent thought for staff and patients.
'Underlying problems'
"It never should have got to this point... to get to the end of the year and have to take such extreme measures is unbelievable.
"It is not unusual to close wards, but it needs to be properly planned so that patients are managed in the best way and so that staff members know what is happening."
She said the group, which represents nurses, was pleased University Hospital Southampton NHS Foundation Trust had offered a last-minute discount to allow 180 off-island operations to go ahead in December.
Ms Marquis said: "However, the underlying problems with the HSSD [Health and Social Services Department] budget need to be addressed urgently to avoid measures like these being necessary year on year."
She called for a review of staffing to ensure the department moved away from relying on agency staff.
Ms Marquis said the group was working with the department to try to mitigate the impact on staff.
However, she said it has had a massive impact on morale and nurses were wondering "what next?".