Sark residents concerned over land use and health care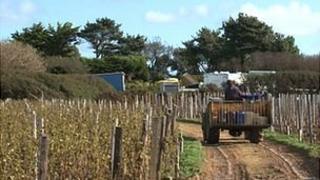 There is concern in Sark over land use, healthcare and conservation, according to a survey.
There were 225 responses to the survey, collated and analysed by the UK Ministry of Justice.
It found that people wanted Sark to focus on its unique qualities, while also dealing with perceived divisions among the community.
Temporary Secretary, Colin Kniveton, said the results would guide future policy from the Chief Pleas.
He said the issue of relations between the Barclay brothers, Chief Pleas and Sark Estate Management was clearly also on people's minds.
Businessmen Sir David and Sir Frederick Barclay live on the small island of Brecqhou and own a number of properties on Sark.
The brothers bought Brecqhou in 1993 and have had a number of legal disputes with Sark's government since then.
In 2008 they pulled investments including hotels from Sark causing 170 staff to be made redundant because voters did not support their candidates for the Chief Pleas.
They have since re-opened all their businesses and re-employed some of the staff.
Concerns over employment and housing opportunities for the island's younger generations were also raised.
There are about 600 people living on Sark, which has a surface area of 2 sq miles.