Coupee Lane plans opposed by neighbours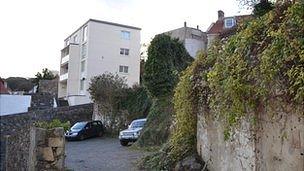 Changes to plans for homes in Coupee Lane, in St Peter Port, have been defended by the developer after criticism from neighbours.
Guernsey planners passed proposals for 10 houses on the site in March 2011 but Coupee Lane Limited have applied for permission to build 17 flats instead.
The change would involve the demolition of two buildings.
Developer Jeremy Rihoy said the island needs housing and it would make good use of an undeveloped site.
Neighbours have raised concerns that it could create a lack of parking in the area and cause problems with the drainage systems.
Others have suggested it would be out of character for the area, which sits within the medieval boundary of St Peter Port.
John McCormack, who owns several nearby properties and is an expert on historical buildings, said knocking down older buildings set a dangerous precedent.
He said: "It's a bad policy to demolish any building, of any age, that's able to be preserved.
"I know nothing lasts forever, but then neither will the charm of our town last forever if this sort of thing goes on."
Related Internet Links
The BBC is not responsible for the content of external sites.