Guernsey hospital ward closed after staff shortages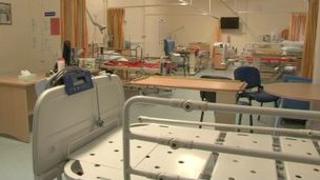 Guernsey's health department is shutting down the de Saumarez ward at the Princess Elizabeth Hospital because of a difficulty in staffing it.
The department said it "strongly regrets" the effect the closure will have on patients.
Ed Freestone, from the department, said the hospital would be up to 10 beds down as a result.
He said staffing was well below the 270 full time posts required but could not say by how much.
Mr Freestone said the problem of a shortage of suitable staff had been compounded by the number of patients requiring care.
Patient care
He said the hospital's first duty was to the safety of patients. The ward had been closed for financial reasons since before Christmas but will now not reopen.
Mr Freestone said: "We are disappointed that despite our best efforts to get de Saumarez reopened we have not been able to do so.
"We are going to try and work it so that with active bed management we will try and avoid anything being cancelled or operations interfered with.
"If there is pressure on us such as unforeseen things, such as an outbreak of flu, that will have a quicker impact than it would normally."
Mr Freestone said that the Health and Social Services Department was putting on roadshows in Guernsey, the UK and Portugal to try and attract new nurses.
He said: "The nurses we are looking for just are not there."