Guernsey Electricity's plans to demolish derelict homes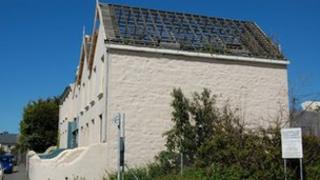 A plan to tear down four derelict cottages in Guernsey's Vale parish has been submitted by Guernsey Electricity.
The properties have been empty for more than a decade, with repeated calls from politicians and members of the public for their redevelopment.
The company, which owns the cottages on Vale Avenue, has asked for permission to demolish the houses, level the site and put up timber fencing.
The plans will be considered by the States' environment department.
Sally-Ann David, Guernsey Electricity's corporate strategy director, said: "We have requested the demolition... for health and safety reasons."
She added that the erection of fencing at the site would help "improve the visual appearance".
Housing minister Dave Jones said his department and the Guernsey Housing Association had looked into the possibility of taking the area on in 2008.
Speaking in 2012, he said the properties needed a huge amount of work and the cost had been too high for them to pursue the project.