Seal pup rescued from Guernsey coast by GSPCA charity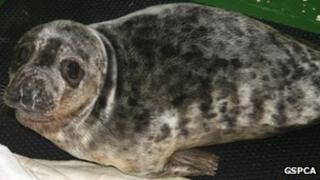 An injured seal pup has been rescued from Guernsey's south-west coast.
The GSPCA animal charity was called to rescue the animal, which was found at Pleinmont in a malnourished state and with cuts to its body.
The pup was transported to the charity's shelter, and was housed next to another seal that was found earlier in the season on rocks at Jethou.
An appeal has been issued by the GSPCA for donations of fresh and frozen fish to feed the two seals.
Steve Byrne, manager of the GSPCA, said the new pup had been named Hanois, after the lighthouse off the coast of Guernsey.
He said unseasonable rough seas had led the two pups into local waters and caused them to become separated from their mothers.
Mr Byrne added that the charity had been fortunate to receive some donations of fish, but said more supplies were needed.
He said both seals would be released in the spring, possibly as early as March.