Guernsey aquarium thief had debts to pay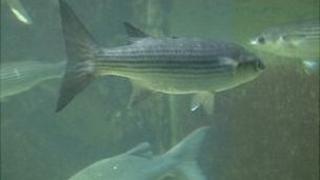 Had it not been for distinctive marks on a fish's gills, Matthew Clark might have got away with using a bass he stole from Guernsey's aquarium to win an angling competition.
His downfall came when a fellow competitor in the Bailiwick Bass Club competition reported seeing the same markings on a fish at La Vallette, two weeks before.
Clark, 29, who was sentenced at Guernsey Magistrate's Court on Thursday, for theft and fraud, was working at the aquarium when he carried out the theft.
He hoped the £800 first prize in the competition would help him pay off £1,500 debts to the aquarium, built up when he worked there.
However, when angler Shane Bentley recognised those markings, from the trip to the aquarium with his children, the fraud was uncovered.
Injured the fish
The court was told that Clark broke in after hours through a back door to take the fish in July 2012 as debt collectors were closing in.
His advocate Sam Maindonald said Clark had planned to return it alive, but it did not survive its ordeal.
Although he had used an oxygenated bag to take the bass away, the court heard he dropped it and fatally injured the fish.
The true origins of the bass were uncovered during the competition's final weigh-in but, at the time, no action was taken by judges.
Undeterred, Mr Bentley visited the aquarium the next day to raise his concerns, finding out that the bass was indeed missing.
He said that although it had been two weeks since his previous visit, he realised "straight away" Clark had passed off the fish as one that he had caught himself.
Dave Miller, the owner of Guernsey Aquarium, said he was still unsure how the theft had been achieved so quickly as they never normally took the fish out of the tanks.
He said the fish had been at the aquarium for 15 years and was like a pet.
Gentlemen's sport
Daryl Butcher, president of the Bailiwick Bass Club and competition organiser, said at first he could not believe what had happened.
He said it has caused anger among a lot of local anglers.
Mr Butcher said it had not been an amazing bass season and Clark was not known for being a competition angler, which had made the catch more surprising.
Suspicions were raised further, he said, because competition judges had not seen a bass of the kind of weight as the one Clark stole for up to seven years.
However, Mr Butcher said: "It's a gentlemen's sport and everyone trusts each other... [but] those caught cheating are prosecuted."