Channel Islands aircraft registry 'should be joint effort'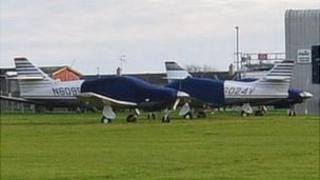 Two separate aircraft registries would be bad for both islands, the Channel Islands director of civil aviation has said.
The islands are negotiating over a joint register, but if no compromise is found could launch their own.
Fergus Woods has legal responsibility for the quality and standard of any registry set up in the islands.
He said: "The worst possible solution would be two competing registries in the same geographical area."
"It would look crazy to the outside world, it would not send a positive message about what we're doing here and how we're organising things."
It's thought an aircraft registry, which also involves overseeing aircraft safety, would bring economic benefits to the islands, through the development of support industries.
The Isle of Man registry was set up in 2007 and has more than 500 aircraft listed.
'Losing control'
Mr Woods said there were two options for working together. The first would see it being managed under a joint company owned by the States of Jersey and the States of Guernsey together, but underneath that each jurisdiction has its own register.
The second would involve a single registry, probably in Guernsey as the necessary laws are already in place, with both islands again controlling the joint venture company.
"That to me offers a more integrated approach despite the fact that it might sound, particularly to our neighbours in Jersey, that they're losing control because in fact control would be achieved through the joint venture arrangements," he said.
Mr Woods admitted that as he has responsibility for the system, it would also be in his best interests if "we're doing exactly the same thing, the same way, the same day."
However, he said it would also make it easier to market the islands and removed any element of competition between them.