Snow closes Guernsey Airport for eight hours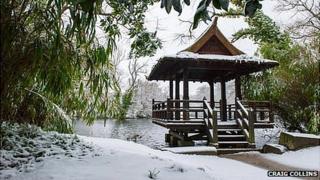 Snow caused Guernsey Airport's runway to be closed for eight hours.
The airport's runway opened at 14:00 GMT after overnight snowfall grounded all flights.
Ashley Nicholas, deputy airport director, said the 10mm of snow had turned into slush causing issues throughout the day.
Further delays are expected for passengers due to the closure of a number of UK airports. Some flights have already been cancelled.
The weather also caused the cancellation of the morning's passenger sailings between Sark and Guernsey but the afternoon sailings have gone ahead as scheduled.
In Guernsey only St Andrew's Primary School was closed due to the conditions.
In Alderney St Anne's School was closed for the morning but reopened at midday.
The snow also caused major disruption to the island's public and school buses with the majority being cancelled or disrupted during the morning before all returned to normal by midday.
Police have urged drivers to take extra precautions on the roads while ice and slush continue to be an issue as the snow melts.