Condor Ferries Poole Channel Islands sailings cancelled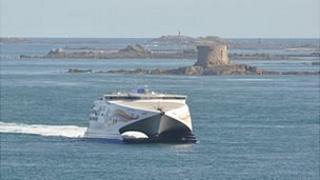 Condor Ferries has cancelled sailings between Poole and the Channel Islands due to a "minor technical problem" with one of its ferries.
The sailings between Guernsey, Jersey and the UK by ferry operator Condor Express had already been rescheduled for "technical reasons".
However, a problem with its generators has led to the cancellation.
Sailings between the islands and St Malo are still due to operate, but have also been rescheduled.
Steve Bailey, the company's Jersey director, said: "All passengers due to travel on the fast ferry service have been transferred to the conventional ferry sailing which operates from Portsmouth and where necessary, will be accommodated in hotels overnight."
He said the technical issue was an electrical fault with two of the ship's four generators.
Mr Bailey said: "Our engineers are analysing the problem and are working to repair the fault over the weekend in order to return Condor Express to operations as soon as possible.
"The next scheduled fast ferry sailing is on Monday 21 January and we will provide those customers booked to travel on Monday with updates as soon as we are able."