Alderney drivers asked to avoid Longis Common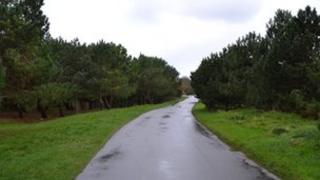 People in Alderney are being urged not to take vehicles on to the grassland at Longis Common due to flooding.
The exceptionally wet winter means the island's water table is at its highest level for 12 years.
Roland Gauvain, manager of the Alderney Wildlife Trust, said anyone driving over the area could cause significant damage to important natural habitats.
He said some areas of the common driven over 12 years before had still not recovered from the damage caused.
Mr Gauvain said: "We've got several patches of grassland... that are now quite barren and are large areas of bramble and other scrub because of the damage that happened back then."
He said the general response from islanders had been positive, but they had volunteers out in the area telling people about the damage they could cause.
The Longis nature reserve is the largest terrestrial reserve in Alderney and covers about 105 hectares (260 acres).
The reserve contains 13 different habitats including marine, intertidal, coastal heathland, grassland, scrub woodland and freshwater ponds, both natural and man-made.
The Alderney Wildlife Trust described the area as having "a great diversity of plant species", as "an important site for migratory birds" and home to nearly 100 insect species of national importance, many of which are not found in the UK.
Mr Gauvain said: "Alderney's a fairly liberal place and we don't put many restrictions on where people can take their vehicles and we'd much rather people just take a little bit extra care and attention."
He said given a dry spell the water table would recede relatively quickly and urged people to stay off the grassland in the meantime.