Guernsey Airport spill by Lagan 'could lead to legal action'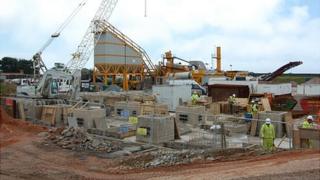 Lagan Construction could face legal action over a small chemical spill in November at one of its site compounds for the £80m Guernsey Airport project.
The company said at the time that 10 litres of chemical bitumen had split at its southern compound.
Guernsey Water is investigating whether or not pollution laws have been breached because of the potential risk to the island's water supplies.
Police confirmed they have been conducting interviews with Lagan staff.
Andrew Redhead, director of water services, said: "People can be totally assured that all of the samples we've taken pose no risk whatsoever to drinking water supplies throughout the island."
Under the island's pollution laws had the spill actually caused harmful pollution to the water supply then there would have been a case for legal action, but there is also legislation covering cases where an incident might have potentially caused harmful pollution, even if it actually did not.
'Never entirely eradicated'
Guernsey Water has to decide whether or not there was the potential for this incident to be more serious and therefore whether they should be taking further action.
The company has been working closely with Val Cameron, the island's shadow water regulator and director of environmental health and pollution, to put together the case.
They are due to meet shortly to decide whether or not to pass the case on to the law officers, who in turn would decide whether it would be taken to court.
Lagan Construction said it was cooperating fully with investigations and had taken steps to ensure similar incidents would not happen again.
Steve Turner, senior contracts manager, said: "All equipment involved with the airport project is checked regularly by qualified professionals. However, the risk of an incident on a construction site of this size and complexity can never be entirely eradicated."