Guernsey, Jersey and Isle of Man sign taxation agreement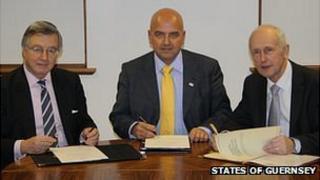 The three UK Crown dependencies have signed double taxation agreements aimed at helping businesses and individuals to avoid paying in two places.
The agreements also allow the exchange of tax information between Jersey, Guernsey and the Isle of Man.
They were signed in London by representatives of each government.
Rob Gray, Guernsey's director of Income Tax, said they would help the islands' authorities in ending tax avoidance and evasion.
He said: "In view of the ease and frequency of transactions between all of the Crown Dependencies, having effective exchange of information provisions in place will also assist the Income Tax Office in the fight against domestic tax avoidance and evasion."
Mr Gray said the agreement between Guernsey and Jersey was an update of the previous one signed in the 1950s while it was the first time such agreements had been signed between the Channel Islands and the Isle of Man.
Eddie Teare, the Isle of Man Treasury Minister, said it would "strengthen the close political and business ties between Crown Dependencies".