Barclay brothers in Sark High Court battle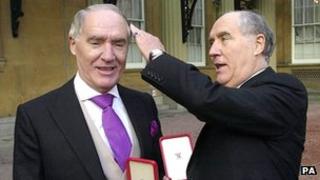 Sark's government has been involved in a court battle with Brecqhou residents Sir David and Sir Frederick Barclay.
The billionaire twins have taken a fresh fight for reform of the the island's governance to the High Court, which has reserved judgement.
The brothers have objected to powers granted by Sark's constitution, specifically those given to the unelected Seigneur.
The pair have been engaged in a long-running conflict with Sark's leaders.
A court challenge in 2008 saw the brothers argue for greater reform in the island's government.
Sark embraced democracy in the same year, as it saw an end to feudal practices.
In the years that followed, tension between islanders, Chief Pleas (the island's government) and the Barclay brothers has increased.
Lawyers for the Chief Pleas urged judges to dismiss the new court case.
They argued that legislation on the island should remain as it is.
Lawyers acting for the Barclay brothers claimed recent changes allowing the Seigneur to remove the Seneschal (the island's judge) and take on the role of President of Chief Pleas during a vacancy went against principles of democracy.
They said such powers "thwart the will of the people" in free, democratic elections.
The post of Seneschal was, in the past, appointed on an hereditary basis.
Sir John Thomas and Mr Justice Burnett reserved judgement until an unspecified date.