Guernsey harbour director role to be created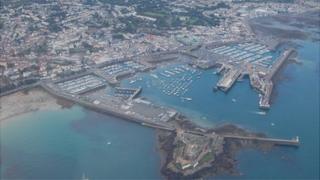 Guernsey harbour management is to be changed to become more business focussed, the Public Services Department has announced.
A post of harbour director is to be created, the harbour master will focus on marine operations and the deputy harbour master role is to end.
The aim is to separate the management of the port and the maritime needs.
The changes are due to come into effect in the next 18 months when the current harbour master and his deputy retire.
The department has started recruitment to allow for succession planning.
The harbour management team oversees the day-to-day running of the commercial port facilities at St Peter Port and St Sampson's Harbours, which handle more than 97% of all goods imported and exported, as well as the marinas.
They also provide the local coastguard service and are responsible for maritime safety.
Adrian Lewis, public services chief officer, said the changes were in line with recommendations made in a comprehensive review carried out in July 2011.
Although it found the "key strength of the management is in its considerable practical maritime experience" it also identified a need for more specialist maritime and commercial experience to support the future development of the harbours.