Guernsey firefighters tackle toxic blaze for nine hours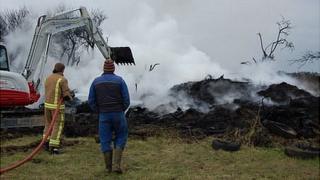 There was no danger to the public from toxic fumes created by a fire that took nine hours to put out, Guernsey Fire and Rescue Service has said.
Firefighters were called to the Chemin Le Roi, in the Forest, at about 02:00 GMT to deal with the fire in a silage clamp.
The clamp, used to store food for animals during the winter month, tyres and other plastics were on fire.
A digger was used to pull the clamp apart so the fire could be dealt with.
Crew commander Mike Elliott said until the digger arrived at about 09:00 they could not get to the base of the pile of tyres, which then allowed them to put out the fire.
He said the fire service had managed to keep people away from the fumes and out of danger.
"We blocked off the road to stop pedestrian traffic coming through because of the toxic fumes... we're keeping everyone upwind," Mr Elliott said.
Richard Valpied, the farmer who owns the land, said he was called out over concerns about the cattle in the same field as the blaze.
He said the tyres had been piled there as they would not be accepted for disposal because they were contaminated with soil.
Mr Valpied said: "We were keeping the tyres here until the incinerator was built, but of course that's no longer going ahead, so we were waiting to see where they could go."
He said he would be speaking to the States about how to deal with the toxic waste left in the aftermath of the fire.
Officials from Guernsey water also attended the scene to monitor the risks of pollution of the water table.