Guernsey chief finance regulator William Mason appointed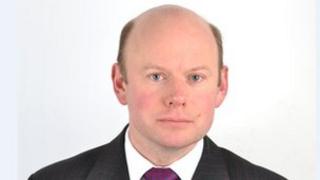 Channel Island Guernsey's multi billion pound financial industry is to get a new chief regulator.
Guernsey Financial Services Commission said William Mason would take over as director general from Nik van Leuven who is retiring.
Mr Mason is former head of risk management at the Central Bank of Ireland.
He said he was looking forward to the job at a time when the finance industry faced "many pressures and challenges".
Mr van Leuven said: "I am certain his knowledge and experience will be of great value to the commission in these times of threat and change."
Guernsey, which has a population of about 60,000, is a "leading international finance centre", according to the industry's body, Guernsey Finance.
At the end of September 2012 deposits in Guernsey banks stood at £97bn.
Guernsey States Scrutiny Committee is seeking opinions of members of the public, businesses and groups on the effectiveness of financial regulation.