Cour du Parc renovation to begin in September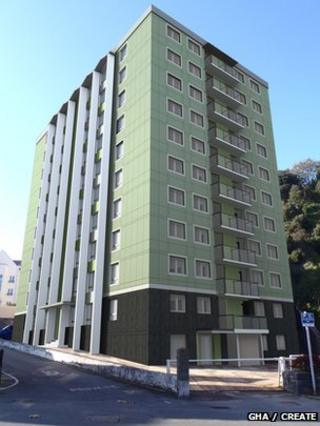 The Guernsey Housing Association hopes to begin the renovation of the island's only tower block by September, if a new planning application is approved.
Cour du Parc at La Charroterie in St Peter Port has been empty since 2011, when it was decided the building was not fit to house residents.
The association plans to increase the existing 42 flats to 50, consisting of one and two bedroom properties.
The 11-storey block will accommodate social tenants and States employees.
Some of the flats will be made available to islanders on a partial ownership basis.
Free bus cards
There are only five car parking spaces available for residents at the site and increasing this number was ruled out as too expensive.
Instead, 26 spaces will be provided in the basement for mopeds and motorbikes, along with secure storage for 60 bicycles.
Residents will also be provided with a bus timetable and a bus travel card when they move in.
The association's application to the Environment Department includes a map to illustrate that "the entire commercial centre of St Peter Port" is no more than 20 minutes' walk away.
Externally, the building will have a new insulated covering which, it is claimed, will eradicate previous condensation issues and avoid the need to re-paint the outside, avoiding expensive re-scaffolding every few years.
The cladding colour was described as "a subtle mix of dark green, lighter green and some off-white panels to give a visual lift to the building without being garish".
The plans include solar panels on the roof to provide residents with hot water.
Disabled access is to be provided into the building and throughout internally.
Steve Williams, the association's chief executive, said: "The building refurbishment does pose some technical challenges... but the GHA is currently out to tender and hopes to start refurbishment work, subject to planning and building control approvals, by this September."
GHA is financing the refurbishment from bank funding, with the Housing Department contributing the building in lieu of any financial contribution to the refurbishment costs.
Mr Williams said he was unwilling to divulge the budget for the project, as the tendering process was underway - although the figures would be made clear at a later date.
However, he said it was not as costly as the association's new-build housing projects.
Housing Minister Dave Jones said: "We're eager to see the building refurbished and occupied as soon as possible, so we're delighted at all the preparatory work the GHA has done to get us to this stage."
"Currently, we still think that the refurbishment can happen without the States having to make any capital grant payment, but it's still early days to say this definitively."