New Guernsey bus route changes proposed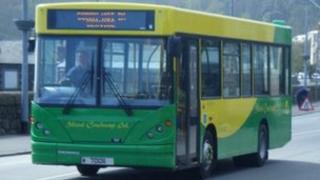 A change to Guernsey's bus routes has been proposed by operator CT Plus.
The company is proposing the introduction of weekend night buses serving the west coast, the Bridge and St Martin until the early hours.
It has also put forward plans for a new number 11 service to run between the Vale and Torteval every 15 minutes at peak times, as well as passing by the airport and the town centre.
Subject to consultation, the firm hopes to bring in the changes on 13 May.
Managers said they were also proposing the scrapping of a regular coastal circular route, and the raising of some fares for island visitors.
CT Plus said data collected from bus users and other interested parties had formed the basis of the new plan, which it said would offer a practical service, with emphasis on meeting demands.
A public consultation into the proposals, being carried out by the the Environment Department, has been started and is due to last for two weeks.
Last week, housing minister Dave Jones said he believed some bus services needed a rethink because the current system did not meet the needs of residents.
His comments came after a housing association announced plans to give residents of a tower block bus passes instead of increasing parking spaces.
A new transport strategy will not be ready for debate in the States until the end of 2013.