Guernsey's waste disposal costs 'to double'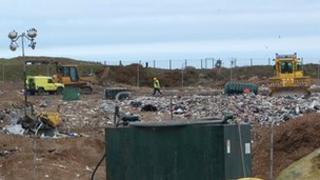 The cost of dealing with Guernsey's waste will almost double in the near future, according to the department responsible for disposing of it.
The waste strategy, which includes kerbside collections of recyclables and export waste off the island, is due to be rolled out over the next few years.
The Public Services Department said currently the average household pays about £100 for rubbish collections.
This is expected to rise to £190 once the strategy is in place.
Public Services Minister Paul Luxon said: "Landfill is not an appropriate way for a modern day society to be dealing with its waste, it was going to be more expensive.
"The waste strategy was the least expensive of the options that we were able to look at so yes it will cost more initially for us to be able to dispose of our waste properly."
Before the end of the year, the department aims to launch kerbside recycling in St Peter Port, St Sampson, and St Martin, which it hopes will be rolled out island wide in the next couple of years.
Mr Luxon said this first phase would be used to test the systems to ensure the permanent system was "the best scheme for the island".
He said: "We've chosen three parishes which reflect the range of properties and complexities that Guernsey has in terms of dense population areas, multi-occupancy and also the rural parishes with difficulty for access.
"Kerbside simply makes it easy for those who have not engaged before."
He said the island's household waste recycling rate was currently 49%.
The States has agreed targets of increasing household recycling to 50% by the end of this year, 60% by the end of 2018 and 70% by the end of 2025.