Guernsey harbour berth repair work begins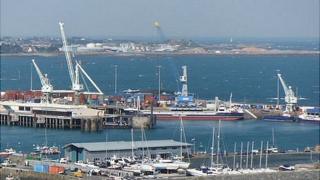 Extensive repair work has begun on two of the main freight berths in Guernsey's St Peter Port Harbour.
It is part of a £13.75m project to replace four of the harbour cranes with two mobile cranes.
Work on the reconstruction of the third berth, the removal of two cranes and the installation of the first mobile crane was completed in February.
Before the second crane can be built corrosion on the undersides of the berths' supports needs to be repaired.
This involves removing large sections of the existing concrete to expose the steel reinforcement, repairing the metal and installing a protection system before replacing the concrete.
The other two cranes have been decommissioned for the work, which could only begin once the first of the new cranes was operational.
The project aims to ensure the freight berths, which handle 98% of all goods imported into or exported from the island, are capable of serving the island for the next 50 years.