Guernsey airline Aurigny looks to replace Trislanders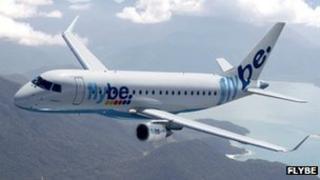 Guernsey's States-owned airline Aurigny has announced it intends to replace its fleet of Trislander aircraft.
The 15-seat aeroplanes constitute six of the company's fleet of nine aircraft, alongside three ATRs.
Mark Darby, who took up the post of interim chief executive on Tuesday, said: "It's time we looked at a suitable replacement.
"We're hoping to be able to take something to the States later on in the year to support the funding."
Mr Darby, a former engineer who has been employed in aviation for 30 years, replaced Malcolm Hart who left the company earlier this month.
He said he expected to be in the role of CEO for "three to six months" but was determined not to allow the temporary nature of his appointment to interrupt progress.
"There's no point in coming into this job as a caretaker," he said. "There are things that need to be done and things that need to be done now."
Aurigny's main commercial competitor, Flybe, reintroduced jet aircraft on routes to Guernsey in March.
Mr Darby said: "We're looking at our response to that. We've got three different aircraft types that we're actively looking at.
"I certainly wouldn't discount jets. That's certainly one of the options."