Guernsey travel disrupted by fog for second day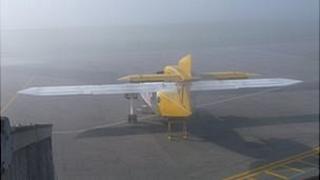 Fog has disrupted flights in and out of Guernsey and Alderney for a second day.
On Wednesday flights managed to operate on the islands during the late afternoon and early evening before the fog and low cloud returned.
No flights departed or arrived on Thursday until 11:00 BST. Forecasts say the fog may return in the evening.
Despite the weather more than 1,300 passengers travelled to or from Guernsey Airport on Wednesday - the average figure is about 2,000.
On Wednesday only two flights left Alderney - both to Guernsey - and there were three return flights, but none operated to Southampton as an incident with a light aircraft closed it during the period of clear skies.