Guernsey airline aims to recoup cost of delays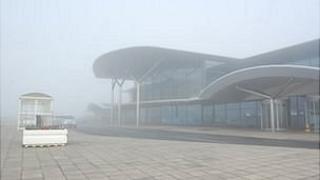 Additional flight delays have been blamed on the lack of an instrument landing system at Guernsey Airport, by the States-owned airline Aurigny.
The system, which has had to be moved during a £80m airfield project, allows planes to land in lower visibility.
The airline is pursuing recouping some of its costs due to the "impact of the airport work".
Colin Le Ray, airport director, said the system would not have helped planes land in the fog in recent days.
The system, which helps guide planes to the ground, was removed at the end of last year as part of work to move the runway 120m to the west.
The part of the system dealing with approaches from the east was reinstalled and successfully tested, but moves to put back the equipment for western landings have been delayed by the weather.
David Rice, director of flight operations at Aurigny, said: "Unfortunately fog always does cause disruption to services, at the moment it's been particularly frustrating.
"Over the winter there have been periods where we've either had nothing at either end of the runway or we've had it at one end of the runway and not the other.
"There have definitely been periods where we might have been able to operate with the instrument landing system working fully."
Mr Le Ray said: "I have to agree that there are times that aircraft could have operated where the conditions are marginal.
"The last couple of days specifically though the fog came in very quickly, it was particularly dense lying on the deck... the equipment would have made only a slight difference there."
He said the equipment is about to be completely decommissioned so it can be physically moved.
The eastern approach is due to come back online next week and the rest of the system by the end of the July with some further planned closures before the system is permanently restored at the end of August.