Guernsey's Heather Watson registers to 'protect' her image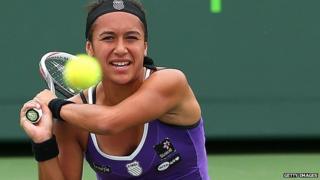 British women's tennis number one Heather Watson has registered the rights to her image.
It means Ms Watson, from Guernsey, will be able to manage and control the "commercial use" of her identity.
Guernsey passed a law in November to became the first jurisdiction in the world to allow someone to register their image.
Ms Watson, who has recently been diagnosed with glandular fever, is currently ranked 39th in the world.
The new legislation allows celebrities to register their voice, mannerisms, expressions and names, as well as pictures, videos and recordings.
It means it will be harder for organisations to make money by using pictures and recordings of celebrities without their permission.
Guernsey is hoping to become a world centre for protecting image rights.
Nigel Currie, head of sports marketing firm brandRapport, said the fact Ms Watson had registered her image was "potentially hugely valuable."
"We haven't had many female British tennis stars in the last few years," he said.
"What Andy Murray has done shows what fantastic appeal there is for British players... he's earning millions in terms of his sponsorship deals.
"If Heather Watson carries on as she has been she could become a major star and pick up a lot of endorsements and sponsorship."