Guernsey sees 'resurgence in traditional drugs'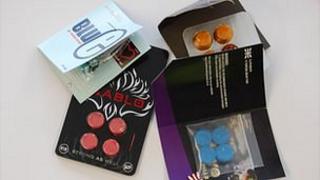 There has been a resurgence in the importation of "traditional drugs" such as ecstasy and cannabis, according to the Guernsey Border Agency.
Branch manager Peter Knee said after the banning of drug substitutes known as legal highs users and importers had reverted to old habits.
The island banned the import of legal highs, such as mephedrone, in 2009.
Mr Knee said the kind of drugs being seized were very similar to those before legal highs became available.
'Pond cleaner'
He said: "We were seeing a real assortment of drugs, but that seems to have calmed down now legal highs are being controlled.
"[Legal highs] posed a threat to people's health, all be it that they were being sold as products for research purposes and for pond cleaner or similar.
"However people were abusing them as if they were a controlled drug."
Mr Knee said it was difficult to say how many drugs got to the islands.
"We would suggest that whilst the drug patterns may be changing the amounts have not significantly changed.
"There's always going to be something smuggled in and it's for us to identify what the current trend is.
"As long as we keep abreast of the trends and we continue to put our resource in the right area then in theory we can still retain some form of control and minimise the amount of the drugs available on the streets."