Guernsey Deputy Mike Hadley faces formal reprimand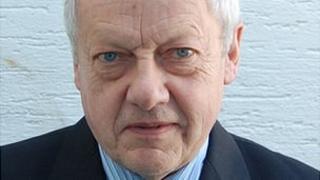 Deputy Mike Hadley faces a formal reprimand in the States of Guernsey for releasing confidential documents.
He emailed a copy of a 2011 report into the Accident and Emergency Department at the Princess Elizabeth Hospital to all other deputies in March.
The Code of Conduct Panel investigated and found he had breached the code.
Deputy Hadley disagreed with the findings, arguing he acted in the public interest because, he said, "lives were at risk".
The report by two members of the College of Emergency Medicine raised concerns about the staffing levels in the department at certain times of the day, but concluded the A&E provided a better service than most of its UK counterparts.
Deputy Hadley said he was concerned there had been no change in staffing levels and he believed this put lives at risk.
He also questioned the confidential nature of the report.
Deputy Hadley said it had been emailed to health professionals across the island and the email asked them to forward it on to "interested staff/colleagues" leading to several hundred people having access to it.
The panel, made up of members of the public, ruled the justification for the release did not persuade them the code had not been breached.
It had the option of recommending one of four levels of discipline: a caution for minor breaches, a formal reprimanded, suspension or removal from a particular office or expulsion from the States.
The panel decided on a formal reprimand as Deputy Hadley was previously cautioned in 2009 for another breach of the code.
States members are due to decide whether or not he should be reprimanded at their meeting next week.