Guernsey gang rape trio lose their appeals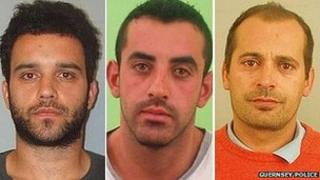 Three men found guilty of raping a woman in Guernsey in August 2011 have lost their appeals.
Jose Pinto, 41, Bruno Loreto, 31, and Ruben Almeida, 29, were convicted of raping the woman in St Peter Port.
The island's Court of Appeal upheld the judgements, meaning their jail terms remain unchanged and they face deportation when released.
The appeal judges rejected a claim the use of a screen, while the woman gave evidence, had been inappropriate.
He said there was "no common law right to physical confrontation with a witness".
At the original trial in August 2012, Judge Russell Finch handed down sentences of 10 years to Loreto and Almeida, while Pinto was sentenced to eight years.
'Not excessive'
During the appeal, Loreto and Almeida challenged the woman's credibility and sought to cast doubt over whether or not a date rape drug was used.
They also appealed for their sentences to be reduced.
Pinto did not challenge his conviction but appealed against the length of his sentence.
Judges Nigel Pleming, Clare Montgomery and Sir Hugh Bennett decided the sentences were not manifestly excessive and upheld the judgement of the Royal Court.
Almeida also appealed against being deported. All three men are originally from Portugal.
This too was dismissed, although the final decision on that will rest with Guernsey's Lieutenant Governor, when the defendant is released.