Alderney stamps celebrate Queen's coronation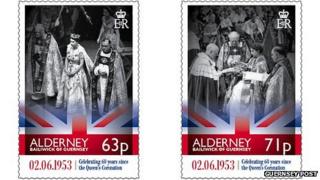 A special set of Alderney stamps is being released to celebrate 60 years since the coronation of The Queen.
Dawn Gallienne, head of philatelic at Guernsey Post, said the idea behind the set was to tell the story of the coronation on 2 June 1953.
"The images selected depict the pomp and ceremony of this special occasion," she said.
A set of Guernsey stamps was released for last year's Jubilee celebrations. The new set is released this week.
The images chosen include Her Majesty smiling at the crowds from a royal carriage, the ceremony in London's Westminster Abbey, and the Queen seated for the formal state photograph, carrying her orb and spectre and wearing the Imperial State Crown.
The Channel Islands have shown allegiance to the English Crown since William the Conqueror, the Duke of Normandy, became King after winning the Battle of Hastings in 1066.